Esos raros nivas.....

El mejor lada que que he visto hasta ahora: techo alto y terriblemente modificado para off road y los crudos terrenos de noruega. Pueden ver más fotos de este y otros increibles nivas, en en la pagina del Club Niva de Noruega: http://www.bebe.no/4x4/

This is far the best lada I ever see! High roof and totally modified to hard off road use, in Norway. You can see more pictures of this and others greats nivas in the web page of the Niva Norway Club: http://www.bebe.no/4x4/
Este es mi Niva Cabrio, o casi. Está modificado por mi amigo Sinner, verdad que le ha quedado bien la capota del samurai??? Aqui esta la foto original, si sabes hacer algo realmente extraño con esta foto, por favor, hazlo y enviamelo!!!
This is a trick picture of my niva, in a cabrio model. It's made by Sinner, with a Samurai soft top. If you can do something very extrange with the original picture, please do it and sendme the results. Thanks!!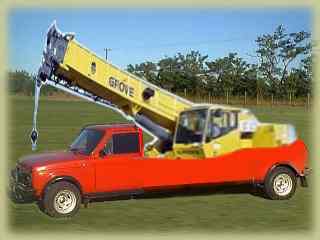 http://www.geocities.com/pampa9/
http://www.geocities.com/pampa9/grupo4x4.html
¡¡Enviados por hector zorzi: Limousine y grua... muy buenos!!
Tambien es el autor de este bonito banner:



Niva Motorhome????
Es una gran modificación para hacer, me gustaria verlo por dentro...


Nice, i want to see a picture of inside... it's a big modification...
Este es un niva expuesto en un salon en Ecuador. Contiene todos los elementos que podriamos soñar para realizar experiencias 4x4 de larga duración y dificultad: defensa delantera robusta, chapon de protección de bajos, faros, bidon, pala, hi-lift, winch, etc etc.

¡¡Ojala algún dia mi niva se vea como este!!!
Un espectacular lada niva con el techo cortado, de un equipo que compite en trial 4x4 en algun pais de Europa del este...
Interesting roof cutted niva that race in trial competitions in Europe.
| | | | |
| --- | --- | --- | --- |
| | | Un lada niva "Bronto", o Marsh, un modelo pensado para andar en la nieve profunda, o en cualquier tipo de terreno extremo, de esos que abundan en rusia. (Lada 1922 Marsz) | |